Many landscapes must endure the changing seasons, especially here in Minnesota. If you wish to enjoy your property year-round there are a few features to consider for your landscape design in Plymouth. We are going to take some time to focus on trees, hardscaping and similar installations that can take your lawn from growing season through fall and into the winter.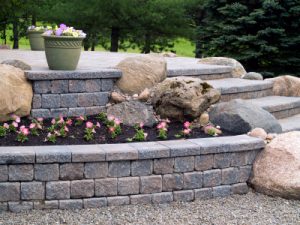 Hardscaping
Walkways, patios and retaining walls are a great way to keep your landscape looking great beyond the blooms. When the plants go through their dormant stages in winter, it is awful nice to have a landscape design that has implemented some hardscaping. When you are laying out where walkways go, follow your family's natural path in and out of your home. Your landscape design needs to fit in with the everyday needs of your family and guests.
Decorative concrete and decorative retaining walls are incredibly popular landscape design ideas. They are a great way to combing functionality with eye-catching aesthetic beauty. They keep your landscape functional and pleasing to the eye no matter the time of year.
You will want to actively take care of your hardscaping during the winter months. Be mindful of salt usage. If you apply it but let it sit, without removing it, it will eat away at or even stain any concrete, paver or stone that has been incorporated into your landscape design.
Trees & Shrubs
Try to include plants in your landscape design that will offer year-round enjoyment, and try to place them in view of your new walkway. You should try to have a plant or two within your new landscaping or garden that grows and blooms during every season. That way, you and your guests still have something pretty to look at no matter the time of year.
If you have any fences or shrubs that border your walkway, make sure they are no higher than two feet. This helps alleviate any feelings of crowding as people are walking on the walkway.
Lighting & More
Lighting is a great way to brighten up your landscape even in the dead of winter. Add colored lights for a festive flair or simply use them to light the way and highlight your hardscaping. Our technicians in landscape design install many sorts of hardscaping items like outdoor fire pits, pergolas, lighting and more.
If you would like more information on landscape design for your Plymouth home, call Advanced Irrigation at 612-599-8675, or you can contact us and get a Free Estimate.