Landscape Design Plymouth
Looking to design the landscape of your dreams? Designing the perfect landscape for your home can be a challenge, especially if you've never done it before. But don't worry because Advanced Irrigation can help! One of our specialties is landscape design in Plymouth, and we are happy to assist you in any way we can.
Our landscape design services begin by discussing your ideas and taking a look at your lawn. Are you intending to add a patio or some other type of hardscaping? What about plants or a flower garden? Perhaps you are interested in creating your own small-scale escape, an area that you and yours can kick back and enjoy the peace that nature provides?
Our number one goal is creating the perfect landscaping design for you. We start by using as many ideas of yours as are possible, meld them with our own expertise and implement something truly spectacular.
No matter what you are looking for, give us a call. We can design the perfect new landscape that you and your family can enjoy for many years to come.
Expert Landscape Design
Advanced Irrigation can provide a professional landscape design to add serious curb appeal to your home or business. We hire only the very best in the industry for quality, creative landscape design services you can depend on. Our able staff will create a new landscape design that will exceed all of your expectations.
A beautifully landscaped yard is a wonderful spot to entertain in. It's also great for quieter times when you just want to sit and relax by yourself. Whether you're looking for something to simply relax in or an elaborate outdoor kitchen or anything in between, we can help. Tell us what you are looking for and we will implement a plan that you will love. There are a variety of great features we can provide, including: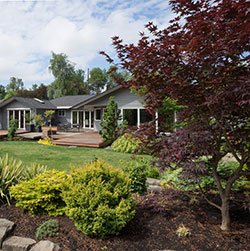 Walkways
Patios
Shrubs
Outdoor fire pits
Retaining walls
Flower and trees
Outdoor lighting
And more
And after your new landscape design features are installed, we can continue to come out on a scheduled or as-needed basis to keep it looking great year round.
Call us today to get a free estimate! We are happy to give you even more information on our landscape design services and more.
Plymouth Landscape Design
Do you want to learn more about landscape design in Plymouth? Call Advanced Irrigation at 612-599-8675 or get a Free Estimate.