Summer doesn't officially begin until later this month but hot summer-like weather has already hit the Twin Cities. Is your business' lawn and landscaping prepared to beat the heat? One of the best ways to arm your commercial landscaping against the dreaded brown lawn is with a commercial irrigation system from Advanced Irrigation. We are the experts in the installation and maintenance of commercial irrigation for Minneapolis. We can custom tailor an irrigation system to meet the needs of your business' unique property as well as monitor and maintain your system to ensure it is working efficiently throughout the season.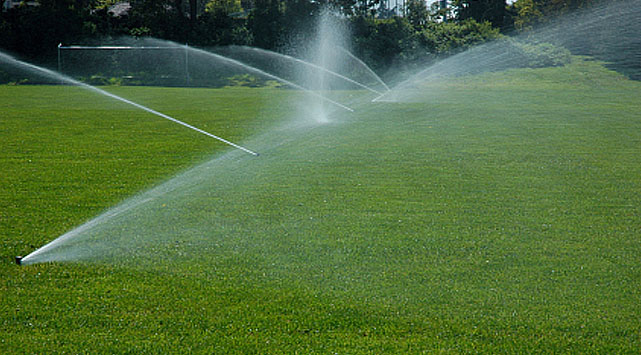 Water is the key ingredient to a lush lawn and can help provide your business with fantastic curb appeal. But it is important to ensure the water is reaching the grass' roots. The rule of thumb is to water deeply but infrequently: this will encourage the roots to grow deep into the soil. If you water too frequently, the grass will grow shorter roots and the grass will dry out during dry spells and droughts. Your commercial irrigation system can be programmed to do just that. Irrigation systems can help ensure your business' lawn is getting the water it needs to grow its best.
It is also recommended that the irrigation system does its work during the morning so that less of the water evaporates in the heat and more goes into the ground. If you come to us for irrigation systems, we can put one in place that will water your grass properly; at the right time and at the right amount. In fact, there are many variables that can alter the design of the system. We take into consideration:
Lawn shape
Landscape layout
Soil type
Soil density
Weeds
Lawn damage
And more
Really, the most important thing you can do to combat a dry, brown lawn is to utilize a commercial irrigation system. Being sure you get the water deep in the soil will help keep it looking nice and green. And, by by targeting the areas most in need of hydration, water can be conserved, benefitting both the environment and your business.
Are you ready to learn more about how commercial irrigation can benefit your Minneapolis business? Call Advanced Irrigation at 612-599-8675 or you contact us to Request a Free Estimate. We can help keep your lawn looking green and pristine!