Commercial Irrigation System Minneapolis
When it comes to your business or commercial property, you always want it to look its best. And proper lawn care and maintenance is an important part of making sure your property has plenty of curb appeal to attract new business. We can help with your commercial irrigation system in Minneapolis, so give us a call to find out more!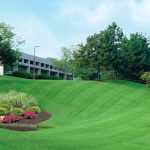 When we install your new commercial irrigation system, we will set all of the controls so each zone gets the exact amount of water it needs: no more and no less. After all, each plant and tree needs a different amount of water, depending on the type, the soil, sun exposure and other factors. Our commercial irrigation system technicians keep these factors in mind when designing and installing your new irrigation system.
The controllers of your new commercial irrigation system automatically set themselves based on weather factors and how much rain your area is getting. So your irrigation system should run smoothly and keep your building's landscaping looking great no matter what the weather is doing.
Call us to find out more. We can answer your questions and set up a time to give you a free estimate. We can come to your commercial property to discuss your wants and needs and, from there, we will design and install a commercial irrigation system that will keep your landscaping and grass looking great.
Commercial Irrigation System from Advanced Irrigation
For more than two decades, Advanced Irrigation has been a trusted name in lawn care, landscaping and irrigation systems.
We believe that customer service and satisfaction is our top priority. We use only the highest quality products, and you will be pleased with the level of customer service that you receive.
And we do not believe in cutting corners either. We pay close attention to details, and we are sure to carefully design a commercial irrigation system that will meet all of your landscaping's and grass' watering needs.
We can even come to your business on a regular basis to inspect your commercial irrigation system to ensure it is working as it should. We can also winterize it and then get it ready for the upcoming warm season.
Call us to find out more and we can put you on our schedule as soon as possible!
Learn about A Commercial Irrigation System
Would you like more information about a commercial irrigation system in Minneapolis? Call Advanced Irrigation at 612-599-8675 or you can contact us to get a Free Estimate.