Officially, the first day of summer is June 21st. But, there are a few essential summer landscaping tasks that should already be in motion. If not, your lawn and landscaping may not survive the hottest days of summer. As a professional landscaping company for Plymouth and the surrounding areas, we not only perform these essential tasks for area home owners and businesses, but we are experts in the field. That's why, we'd like to provide you with the list of chores that should be regularly implemented for a healthy lawn; and, if you need assistance, contact our landscaping company. We can take care of these tasks for you; expertly and professionally.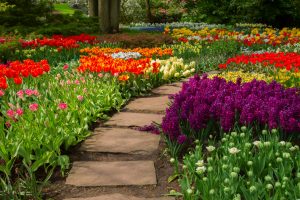 Watering & Irrigation
Throughout the summer, the sun will be beating down on the lawn all day long. Without proper watering it can become dry and brown. That's why it's important to keep your lawn hydrated with consistent watering. And, you also need to water wisely. You can't just stand outside with a hose or set up a stationary sprinkler. The watering must reach every part of your landscaping and be evenly distributed.
It is also important water your lawn in the morning. This allows the water to seep into the roots of the grass instead evaporating in the afternoon. It is also key to keep the roots hydrated, but you don't want to overwater and flood the grass, making it a very delicate balance.
The best way to ensure this? A smart irrigation system! At Advanced Irrigation we provide a wide variety of irrigation services for local area commercial and residential clients. A smart irrigation system can even regulate the amount of water needed based on time of day, recent rain fall and more! Smart controllers equipped with an on site weather station, can operate in an automatic adjustment mode. The weather based watering schedules are calculated for each zone using the unique characteristics of each microclimate throughout the yard.
Weeds & Fertilizing
Since your landscape takes quite a beating during summer from foot traffic, the heat and more, it's important to fertilize your lawn. Summer is also prime weed season and the presence of weeds can take valuable nutrients away from your grass or plants. Our landscaping company is dedicated to using the finest golf course quality fertilizer along with state-of-the-art broadleaf weed controls in our commercial and residential lawn fertilizer packages. We offer lawn fertilizer packages and weed control packages to residential and commercial customers.
And, these are just a few of the chores you should be regularly performing for your landscaping. Need assistance? Contact our landscaping company and we can take care of them for you! We can even install a new, smart irrigation system if you'd like!
For more information about our landscaping company in Plymouth, call Advanced Irrigation at 612-599-8675, or you can contact us and get a Free Estimate.