From small towns and big cities, to somewhere in between like Maple Grove, snow plowing and winter lawn care is important to prepare for. You're most likely ready to shovel a few of your business' surrounding sidewalks if need be, but what about the big picture? Here are some key tips from the experts at Advanced Irrigation on keeping your property happy, healthy and safe throughout the winter.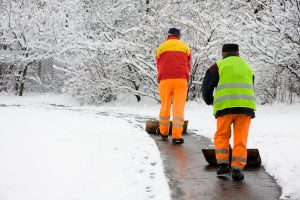 1. Snow Plowing & Winter Safety
After a snow storm, sidewalks, roads and walkways can become slippery and dangerous. Ensure your entire perimeter is safe to walk on with snow plowing services from the experts at Advanced Irrigation. When it comes to something as important as safety, it is important that you hire the right company well before winter even hits to ensure you have the right action plan in place. By hiring well in advance, you will be able to align with snow plowing best practices, create a request for proposal, and receive an outline of what the property should look like once the snow plowing service has been conducted.
Without proper planning and professional snow plowing, there are several things that can go wrong during heavy snow or ice events:
Operations at your facility can slow or stop
A patron could be severely injured resulting in a possible financial settlement
The entire annual budget could be blown on one single winter
2. Importance of Winterizing
Do you have an irrigation system? Then you definitely need to consider and plan for winterizing your system. A proper winterization is crucial to the overall performance of your irrigation. If water is left in the system over the winter, the pipes may freeze or even burst! This can result in a not only a costly repair, but come spring you won't have your wonderful working irrigation system. So, be sure to properly shut it down before winter. This is a task we can handle for you.
3. Tree Care
During the winter you may not give the trees on your property much thought, however tree maintenance is very important to the well being of your landscape. After a snow fall, be sure to shake the snow off your trees' branches if the snow is dry and fluffy. When heavy snow builds up on branches, it can weigh them down, causing them to break. If you notice damage to the tree limbs, make sure they are pruned as soon as the weather allows. Taking time to have your trees looked at and cared for will help them live longer and look better come spring.
Are you interested in more information on snow plowing in Maple Grove and other winter lawn care services in the area? Call Advanced Irrigation at 612-599-8675 or you can contact us to get a Free Estimate.