Warmer weather is on its way. That means it's time to start thinking about your new summer landscaping plan, irrigation and growth. Whatever you're up to this time of year, a spring start-up will help you get things rolling. With the help of an irrigation system expert from Advanced Irrigation, you'll be able to start planting as soon as possible. No doubt your lawn has been showing signs of life for weeks now, so if you haven't had your spring startup or sprinkler system installation yet, we'd like to offer a few reasons to consider having one done by the professionals at Advanced Irrigation.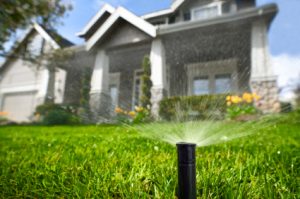 For homeowners in Greenfield and the surrounding areas, a sprinkler system installation is an essential part to building a beautiful lawn. Whether you have a sprinkler system already and just need a spring startup or require a new sprinkler system installation, it is important to get these up and running to ensure the most lavish lawn possible. When you put all the time and effort into creating a stunning new landscape, you don't want to wake up to brown patches or less-than-flourishing plant life. Not only will a sprinkler system keep your lawn green all through the growing seasons, but it will also give your landscape that well put together, professional look.
It's simple, when you want a beautiful lawn, you need a sprinkler system. But, like with any device, problems can arise with your irrigation systems and spring is a great time to have them checked out. And, did you know that May is National Home Improvement month? It's the perfect time of year to give your lawn some extra attention! Why not start with a sprinkler system installation?
And, it is important to consider, that for those planning a new landscape design, a major part of your landscape is your lawn. It may not seem very exciting or extravagant next to your brand new landscaping project, but it is one of the first things people will notice. They will take in the whole scenery at once and that includes the health and vitality of your lawn. Having a healthy lawn as part of your landscaping plan is crucial. As nearby sprinkler system installation experts, we can attest to the many benefits of a sprinkler system installation.
So don't hesitate any longer! When you're ready to learn more about a sprinkler system installation for your Greenfield home, call Advanced Irrigation at 612-599-8675 or you can contact us to get a Free Estimate.