It is undeniably summer! And, with warm weather gracing Minnesota for weeks now, your lawn mower must be well seasoned by this point, as should your other gardening and lawn care equipment. Do you have a watering and landscaping plan for the next few months? From installing and maintaining a new irrigation system to designing and installing new landscaping, we specialize in a variety of lawn care services to help Minneapolis residents keep their lawn and garden looking their best all summer long. The experts at Advanced Irrigation have put together a few tips and tricks to help your lawn stay stunning and hydrated through the dog days of summer: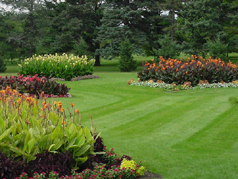 Irrigation & Watering
Don't currently water your lawn or have an irrigation system taking care of the job for you? It is essential that you water your lawn on occasion and do so sparingly, but ensuring that with each watering you fully saturating all areas. A few waterings a week should be adequate in the absence of rain. Your grass will learn to dig deeper into the soil to get the water it needs, allowing for stronger and healthier growth. The best way to ensure proper watering and to avoid over watering is with a smart irrigation system. Irrigation systems are one of our many lawn care services and are able to regulate your watering to not only conserve water but help maintain the health of your lawn. Fill out a Service Request and we can get you on the path to a consultation or installation.
Hardscaping & Softscaping
Looking to add value to your home? We can design a variety of lawn care services to truly enhance the overall look of your lawn. We can plant flowers, plants and trees, add decorative rocks, mulch, patios, pavers, stone retaining walls, edging, lighting and more. We can even offer you a landscaping consultant that will use digital landscaping design to create the oasis you've always wanted. And, special lawn care services can be designed to fit your landscape's specific needs.
Mulching & Fertilizing
Buy yourself some mulch to place around trees and amongst flower beds. Layers of mulch should run roughly two to four inches in depth, helping keep your plants retain warmth and moisture.
Weeds getting out of control? We offer lawn fertilizer packages and weed control packages for both residential and commercial clients.
Ready to implement some of these great lawn care services to make the most out of your lawn? Call Advanced Irrigation at 612-599-8675 or contact us for a Free Estimate.