Landscape Design Edina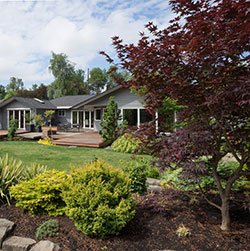 Designing the perfect landscape for your home can be a challenge, especially if you've never done it before. But don't worry because Advanced Irrigation can help! One of our specialties is landscape design in Edina, and we are happy to assist you in any way we can.
We can listen to your ideas and, using as many of them as possible, come up with the perfect landscape design that will turn your hum-drum yard into a beautiful outdoor living area. Give us a call to learn more about our services and everything that we can do for you.
Our landscape design services begin when we talk to you about the kind of landscape you want. Do you want a patio and other hardscaping aspects? Do you want new flowers and trees planted? Or maybe you want an entirely new outdoor oasis planned and installed so you and your loved ones can enjoy nature without leaving the comfort of your home?
No matter what you are looking for, give us a call. We can design the perfect new landscape that you and your family can enjoy for many years to come.
Call today to learn more or to get a free estimate on our landscape design services!
Professional Landscape Design
You can get the yard and garden of your dreams when you call us. Our owner has several decades of experience in landscape design and lawn care service, and we can come up with a new landscape that will make you very happy.
Whether you want your new landscape to entertain in, to relax in or both, we can design the perfect landscape to meet those needs. You can tell us exactly what you are looking for and we will come up with a plan that you will love.
Your new landscape design could include:
Patios
Walkways
Retaining walls
Flowers and trees
Shrubs
Outdoor fire pit
Pergolas and arbors
Outdoor landscape lighting
And more!
After your new landscaping features are installed, we can continue to come out on a scheduled or as-needed basis to make sure it continues to look its best no matter what time of year it is.
Call us today to get a free estimate! We are happy to give you even more information on our landscape design services and more.
Edina Landscape Design
Do you want to learn more about landscape design in Edina? Call Advanced Irrigation at 612-599-8675 or get a Free Estimate.