Earth Day is April 22nd and in its honor we would like to clear up some misconceptions about lawn irrigation systems and water usage. After all, here at Advanced Irrigation, we believe in doing everything we can to conserve water when we design, install and program every one of our irrigation systems. As experts in sprinkler system installation for Buffalo and the surrounding areas, we believe in helping Mother Nature and the environment through water conservation. This Earth Day, consider sprinkler system installation for your home or business as a way to save water and promote a healthier landscape. Ready to learn more? We would love to tell you more about our unique sprinkler system installation and a few of the things we do to ensure efficiency.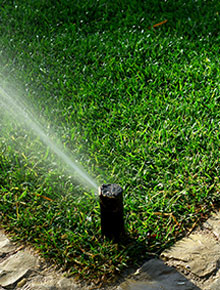 Protecting the environment is a community and group effort. Everyone has to pitch in to make sure our planet stays healthy. And, one of the best ways to keep your yard looking good while also doing your part this Earth Day is to have weather-based controllers included in your sprinkler system installation.
Gone are the days of over-watering and wasting water with a hose and sprinkler or sprayer propped up in one spot. This old, outdated way of watering the lawn is incredibly wasteful. But, with a sprinkler system installation from Advanced Irrigation, you get a weather-based controller. Weather-based irrigation controllers work by calculating something called evapotranspiration. This is the combination of the water that the ground evaporates and the water that plant materials transpires. The weather-based controllers calculate this in real time by monitoring a weather station 24/7. The on-site weather station monitors conditions like rainfall, the wind, humidity and solar radiation.
The weather-based controllers are programmed by using unique characteristics of each microclimate within your yard and landscaping: plant and soil type, slope, sun and shade exposure and precipitation rate. Based on these factors, the controller will automatically adjust the watering times and frequencies for each zone in your yard. No water goes to waste and every drop is used to help your lawn grow lush and green.
And, not only does water efficiency from a sprinkler system installation benefit the environment, it can also benefit your wallet! Using less water means money savings un the long run.
Are you ready to get some more information on weather-based controllers and sprinkler system installation in Buffalo and the surrounding areas? Call Advanced Irrigation at 612-599-8675 or you can contact us to set up your Free Estimate.