Commercial Lawn Care Greenfield
Are you looking for professional lawn care for your commercial business? We understand how important it is to maintain your building's lawn, keeping it lush, green and flourishing. The landscaping outside makes a huge impression on those who visit and it is essential to keep it looking its best. At Advanced Irrigation we offer commercial lawn care for Greenfield and the surrounding areas and can provide proper maintenance for your unique landscape.
We offer a variety of commercial lawn care services for commercial properties and multi-unit housing. We can come out on a scheduled or as-needed basis, and can always fully customize our commercial lawn care services to meet your specific needs.
When you hire us, you will never have to stress over the health or condition of your landscape. Our team of professional lawn care technicians and landscapers will handle everything for you. We can work to make your landscaping look great and even remove snow and ice in the winter.
From making sure your grass is properly fertilized to designing, installing and servicing an irrigation system, we have got you covered. Let Advanced Irrigation be your one-stop shop for all of your commercial lawn care needs.
Give us a call today to learn more about our commercial lawn care services and all of the other lawn care and landscaping services that we provide.
Our Commercial Lawn Care Services
You want to be sure your commercial property or multi housing unit always looks its best and Advanced Irrigation can help! We have been the trusted name in both residential and commercial lawn care for over two decades. And, we are known as one of the very best in lawn care and professional landscaping in the area. Whatever it is you need for your commercial property, we will work to supply it! Our commercial landscaping services include: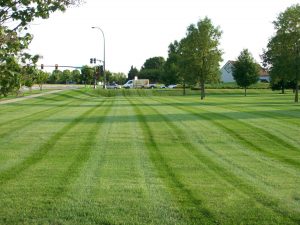 Landscaping design, installation and maintenance
Fall blow outs and spring start ups for irrigation systems
Turf management and aeration
Hardscaping
Softscaping
Irrigation system design, installation and repair
Fertilization and weed control
Snow plowing and snow removal
Mulching
And more
And these are just some of the services we can provide for you and your business' landscaping.
Our technicians at Advanced Irrigation have more than two decades of experience in the lawn care and landscaping industry. We have worked with homeowners, business owners, property management companies and more and we know the ins and outs of helping a variety of commercial clients from homeowners' associations to schools and banks to commercial properties and apartment communities.
Contact us today to learn even more about our commercial lawn care services and all we can do for you.
Contact Us for Commercial Lawn Care
Ready to take the hassle and labor of maintaining landscaping and plant care off of your plate? To learn more about commercial lawn care in Greenfield call Advanced Irrigation at 612-599-8675, or you can contact us and get a Free Estimate.