Water Sprinkler System Elk River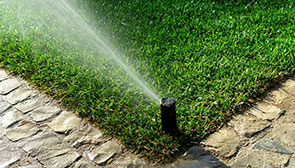 If you have an existing water sprinkler system that is in need of repair or simply a little replotting as per placement or if you have long been thinking about having one installed, Advanced Irrigation can help. We are installers of the highly sought after water sprinkler system in Elk River and surrounding areas. So many of your friends and neighbors are already enjoying lush green grass and landscape abloom, thanks to Advanced Irrigation.
Our water sprinkler system services include:
New system design and installation
Routine and schedule service and adjustments
Unscheduled repairs and service
System rebuilds
Fall blow outs
Spring start ups
And more!
To learn all that there is to know our general irrigation system services and all we can do specifically regarding a water sprinkler system, give us a call. We will provide a free estimate on a new water sprinkler system so you know exactly what the overall cost of the system itself will be. We will also make time to provide answers to any and all of your questions and concerns.
A typical water sprinkler system from Advanced Irrigation is equipped with rain sensors. They detect when rain has fallen in your area and will adjust itself accordingly to not water in this situation, adjusting the system's watering schedule accordingly.
More about Our Water Sprinkler System
Once your new water sprinkler system is installed or redesigned and serviced, care is not a chore. You may sign up for a service agreement that will ensure that we come to your home on a regular basis to make sure that your water sprinkler system is fully up to its optimum performance level.
If your water sprinkler system calls for it, we will adjust and repair it, leaving you detailed notes on all that we did to improve it. Call us to learn why we are one of the most trusted names in sprinkler systems in this area!
Professional Water Sprinkler System
Are you interested in learning more about a water sprinkler system in Elk River and the surrounding areas? Call Advanced Irrigation at 612-599-8675, or you can contact us and get a Free Estimate.