Sprinkler Systems Greenfield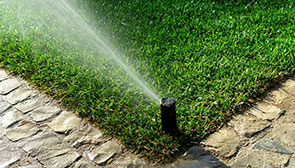 Are you looking for a way to keep your grass and landscaping looking lush and green, no matter what the weather? Consider sprinkler systems for your Greenfield home or business. Advanced Irrigation has the experience and know-how to design and install an irrigation and sprinkler system specifically designed for your home's and landscaping's needs. Whether you need your current irrigation system serviced or you need a new one installed, the experts at Advanced Irrigation can help.
Our experienced team of lawn care technicians will come to your home to take a look at your lawn, talk to you about what you're looking for and assess your lawn care needs. From there we will tailor sprinkler systems designed specifically for your unique landscape's needs.
Each zone of your new irrigation system will be uniquely programmed to water according to that area's needs. Sprinkler systems can be programmed to water those plants more frequently than the other areas of your garden or landscaping. And, we take each plant's watering, sun and shade needs into consideration.
Our sprinkler systems also have rain sensors. These sensors will tell the system how much rain has fallen and the system will then adjust how much it waters your plants, grass and landscaping based on how much rain has fallen. This not only helps the health of your plants but limits your water usage as well.
Ready to get started? Call us to find out more about sprinkler systems. We can answer your questions and get you on our schedule as soon as possible.
Sprinkler Systems from Advanced Irrigation
You can depend in Advanced Irrigation for all of your landscaping and sprinkler system needs. Since our inception, we have only used best practices that adhere to the most ethical and professional standards, ensuring your landscape stays healthy without wasting water. And, close attention is paid to both the installation and maintenance of your system so that it remains fully functional and efficient.
Working with us means you'll receive a high-grade water-efficient sprinkler system that adheres to Minnesota Conservation Practices. In addition to having a top of the line sprinkler system installed and well-maintained, there are also many other ways we can help you maintain the beauty of your lawn. We also provide a variety of lawn care services including pruning, weeding, aeration, lighting, fertilization and much more.
So give us a call at Advanced Irrigation. We have helped countless homeowners like you get the sprinkler systems and irrigation systems they want. We even offer free estimates to help you budget for your new irrigation system.
Sprinkler Systems & More
If you are interested in getting more information about sprinkler systems in Greenfield and the surrounding areas, call Advanced Irrigation at 612-599-8675 or you can contact us to get a Free Estimate.