Snow Plowing for Plymouth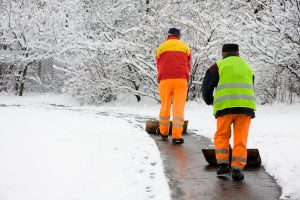 When the snow begins to fall, it is important to have a plowing and cleanup plan in place. Your property needs to be clear and safe to walk or drive on before the workday begins. And, when you think snow plowing, your first thought may not be Advanced Irrigation. But, we are the experts. We take care of so many aspects of lawn care and lawn care maintenance, no matter the season. We offer snow plowing for Plymouth and the surrounding areas and can help you with all of your snow and ice management needs.
Hiring a service provider to clear or remove ice and snow from your facility is one of the key safety and financial decisions you'll make in a given year. So, don't trust your snow removal to just anyone, enlist the experts at Advanced Irrigation. Don't let our name fool you, we are more than just an irrigation company, we are one of the best snow and ice removal companies around. As members of the Snow & Ice Management Association (SIMA), we know all of the safest and most efficient ways to clear ice, snow and slush.
Since 2001, we have been known for reliable, professional and friendly service in all aspects of lawn and property maintenance. Give us a call to learn more about how we can help you the next time it snows and alleviate some of the stresses that can come along with it.
Professional Snow Plowing
When you enlist the snow plowing experts at Advanced Irrigation you can expect comprehensive snow plowing services, using a combination of snow plows, shoveling and de-icers. Business and home owners alike have trusted us for years with all of their snow plowing needs.
At Advanced Irrigation, we have built our reputation by listening to and effectively responding to the needs of our clients as well as our environment, receiving excellent service awards for five years in a row. Allow us to handle all of the snow plowing, snow shoveling, de-icing and everything else that needs to get done in the event of a snow or ice storm.
The last thing you want is for someone to get hurt in or around your property after a snow storm. Make sure that your entire perimeter is safe to walk on and safe to drive on with snow plowing services from the experts. And aside from the liability issues that come up, cleaning up your property after a heavy snow is just best practice. Efficient snow plowing and ice removal makes your busy day-to-day life safer and easier.
So give us a call at Advanced Irrigation and we can get you on our snow plowing and snow removal schedule today!
Snow Plowing from Advanced Irrigation
Are you ready to learn more about snow plowing in the Plymouth area? Call Advanced Irrigation today and start on your snow removal plan! Contact us at 612-599-8675 or Request a Free Estimate.