Dependable Snow Plowing for Your Greenfield Business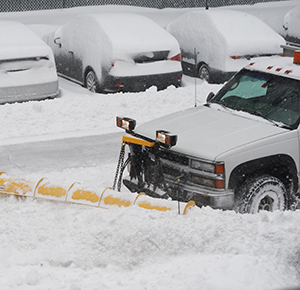 When snow hits, the last thing you want is for someone to get hurt in or around your property. After a snow storm walkways, roads and lots can become slippery and dangerous. That is why it is so important to have a snow plowing and snow removal plan in place. And, when you think snow plowing, your first thought may not be Advanced Irrigation. But, we are the experts in the area. We take care of a wide variety of lawn care and lawn care maintenance tasks, no matter the season. We offer snow plowing for Greenfield and the surrounding areas and can help you with all of your snow and ice management needs.
Area business and home owners alike have entrusted us with their snow plowing tasks for years. At Advanced Irrigation, we have built our reputation by listening to and effectively responding to the needs of our clients as well as our environment, receiving excellent service awards for five years in a row. Allow us to handle all of the shoveling, plowing and everything else that needs to get done in the event of a snow or ice storm.
If unprepared, snow and ice can build up fast, leaving your business unable to operate and even susceptible to accidents. So, make sure that your entire perimeter is safe to walk on and safe to drive on with snow plowing services from the experts at Advanced Irrigation.
Our Snow Plowing Services
Without the proper planning necessary, there are several things that can go wrong during heavy snow or ice events. For example, operations at your facility can slow or stop. Or, a patron can be injured, resulting in a possible financial settlement. The entire annual budget can even be blown on one single winter if you are not properly prepared. But it doesn't have to be that way. By planning ahead and scheduling necessary snow plowing and ice management, you can help avoid some of the dangers that come along with a heavy snow event. That's where we come in.
Since 2001, Advanced Irrigation has been known for reliable, professional and friendly service in all aspects of lawn and property maintenance. And this includes our comprehensive snow plowing services, using a combination of snow plows, shoveling and de-icers. We can handle all of the snow plowing, snow shoveling, de-icing and more in the event of a snow or ice storm.
Contact Us about Snow Plowing
Are you interested in learning more about snow plowing in the Greenfield area? Call Advanced Irrigation today and solidify your snow removal plan today! Contact us at 612-599-8675 or Request a Free Estimate.