Lawn Irrigation Minnetonka
When you need a lawn irrigation system installed, redesigned or serviced, you want to hire a company that will do the job right the first time. You want to hire a company that offers high-quality products and services at a reasonable price. Advanced Irrigation specializes in lawn irrigation in Minnetonka and the surrounding areas, and we can help with all of your sprinkler system needs!
Your lawn will make your neighbors green with envy when they see how lush and green it looks. And with minimal effort on your part, your lawn irrigation system will continue to water your lawn at the right levels and at the right time of day to ensure your grass and landscaping look their best throughout the growing season.
Lawn Irrigation from Advanced Irrigation
A lawn irrigation system can benefit your yard and landscaping in more ways than just consistently watering it.
These systems also help prevent weeds and lawn diseases, plus they actually help you conserve water since they only use the exact amount of water you need to keep your grass healthy. Most lawn irrigation systems also have rain sensors that will tell the system when it should not water your grass because there has already been enough rain.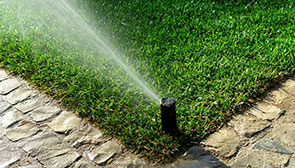 And with a lawn irrigation system, you can enjoy more free time. You will not have to water your lawn, and other lawn care chores will be a thing of the past. You will have more time to enjoy yourself, rather than spending it on watering your lawn.
A lawn irrigation system also helps increase the health of your soil. Vital nutrients will not run out with water run-offs that result from watering your lawn with a hose. Your plants' roots will also fare better thanks to a lawn irrigation system.
In business for two decades, Advanced Irrigation has helped many of your Minnetonka friends and neighbors with our lawn irrigation services.
Advanced Irrigation also offers:
Repairs and routine maintenance
Spring start-ups and fall blow-outs
System redesigns and remodels
System rebuilds
And more!
Just give us a call and we can schedule a time to come to your home and give you a free estimate!
Learn More about Lawn Irrigation
Do you want to learn more about lawn irrigation in Minnetonka? Call Advanced Irrigation at 612-599-8675 or you can contact us to schedule your Free Estimate.