Lawn Irrigation Greenfield
Do you want a happy, healthy lawn this summer? Then it's time to consider lawn irrigation for your Greenfield area home. Give us a call at Advanced Irrigation, we provide a variety of lawn care services including irrigation design and implementation.
When we come to your home for your lawn irrigation appointment, we will talk to you about your lawn care needs and assess your landscaping to see what type of system will work best. We will make sure to tailor our systems to meet your lawn care needs to ensure your entire lawn gets just the right amount of water at the times it needs it.
If you already have an existing lawn irrigation system, perhaps patches of your lawn are missed, keeping those areas brown and dry. But a redesign, update or proper servicing can get it working the way it should.
And, your choice of lawn irrigation service companies should always bring with high-quality products and services at affordable rates. That's why the best call is to call the experts at Advanced Irrigation. We will listen to your needs and assess the needs of your property to design and install a lawn irrigation system that is perfect for you.
Give us a call today and we can set up a time to come out and discuss what you're looking for in lawn irrigation and give you a free estimate.
Our Lawn Irrigation Services
How do you currently water your lawn? Is it with a hold garden hose? If so, this can be a huge waste of water and not really do much to benefit your lawn. A lawn irrigation system benefits your yard and landscaping in so many ways beyond keeping it green. It can act as effective weed and lawn disease prevention. And, a lawn irrigation system can ultimately help you conserve water compared to hand watering, using only the exact amount of water you need to keep grass healthy.
And, with Advanced Irrigation you are sure to get the right lawn irrigation services for your unique needs! In business for over two decades, we have helped many local area residents get the lawn irrigation system they want and need for their unique landscaping.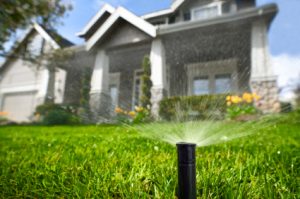 We offer a variety of lawn irrigation services including:
System design & installation
System rebuilds
System redesigns and remodels
Repairs and routine maintenance
Spring start-ups and fall blow-outs
And more
With a lawn irrigation system in place, you can focus on enjoying your life, having one less chore to pursue. You will not have to water your lawn anymore and you will conserve water and enjoy a more beautiful, lush lawn.
So stop hand watering and invest in a lawn irrigation system for your Greenfield home!
Learn More about Lawn Irrigation
Are you interested in learning more about lawn irrigation in Greenfield, or even make a service request? Call Advanced Irrigation at 612-599-8675 or you can contact us to schedule your Free Estimate.