Lawn Care Edina
If you want your lawn to be the envy of your neighbors and friends, you need a landscaping and lawn care company that can handle all of your lawn care needs from start to finish. From the initial design and installation of your irrigation system and other components of your landscaping through fall blow-outs and spring start-ups, you need a lawn care company in Edina that you can trust to handle all of those needs and more.
Thankfully, Advanced Irrigation is here to help! We offer a huge variety of lawn and landscaping services, including the following and more: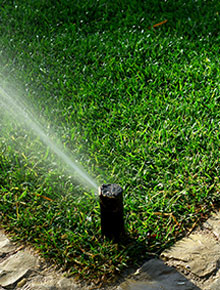 Irrigation system design and installation
Irrigation system repairs and maintenance
Fall blow-outs and spring start-ups
Landscape and yard lighting
Aeration and seeding
Fertilization and weed control
Lawn restoration
Hardscaping, including patios, retaining walls,
walkways, outdoor fire pits and more
Call today to learn about our lawn and landscaping services and to schedule your appointment!
Lawn Care and Working with Advanced Irrigation
Since 2001, Advanced Irrigation has been helping home and business owners in your area with all of their lawn and landscaping needs. Customer service is our highest priority, and we strive to meet or exceed your expectations no matter what type of lawn care services we provide to you.
No matter what kind of lawn care services we are providing to you, we will stay in contact with you from start to finish. If you are not around when we come to your home or business, we will leave an invoice on the door that not only details what services we provided, but will also give you recommendations on how to keep your lawn and landscaping looking great.
Our technicians are fully certified and have been in the landscaping business for years. They stay up to date on the latest lawn care trends and technology, and your yard and landscaping will look great thanks to their knowledge and abilities.
No matter what kind of lawn care services you need, we can help. Just give us a call today to find out more about our lawn care services and how they can benefit you! We even offer free estimates on our lawn care services!
Learn More about Lawn Care
Are you interested in learning more about lawn care in Edina? Call Advanced Irrigation at 612-599-8675 or contact us to get a Free Estimate.