Landscaping Companies Monticello
As one of the best landscaping companies in Monticello, we have helped countless home and business owners like you get the landscaping they want without breaking the bank. We offer a variety of lawn care and landscaping services like:
Irrigation systems: installation, fall blow outs, spring start ups, repairs, scheduled maintenance
Lawn care: weeding, pruning, fertilizing, aeration
Commercial snow and ice removal
Landscape design and installation
And more!
Give us a call to learn more about our services and why we are considered one of the best landscaping companies in this area. We will gladly answer any questions you have and we will get you on our schedule as soon as possible. We even offer free estimates so you know how much to budget for.
Our services can be scheduled on a regular basis, or you can call us for a single project. We are happy to assist you in any way we can. We want to help you get the lawn and landscaping you have always wanted!
Professional Landscaping Companies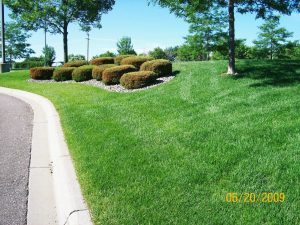 Our reputation as one of the most reliable and professional landscaping companies precedes us. Our customers know they can count on us for some of the best lawn care and landscaping services in the area. We give everyone we help personalized service, and we want you to keep coming back to us any time you need lawn care or landscaping services.
The technicians from Advanced Irrigation are friendly and knowledgeable, and we are ready to tackle any type of landscaping or lawn care that you need done. We specialize in just about every aspect of making sure your landscaping and grass stay looking great all year long.
We understand just how important it is for your home's or business' landscaping and lawn to look its best. Nice-looking landscaping adds curb appeal and makes your home or business more welcoming. We will take care of these tasks while you handle everything else that is going on in your life.
Landscaping and garden chores are a thing of the past when you hire us. We'll do it for you so you don't have to worry about it.
Call us today to learn more and to get on our schedule!
Monticello Landscaping Companies
Are you interested in learning more about one of the best landscaping companies in Monticello? Call Advanced Irrigation at 612-599-8675 or you can contact us for a Free Estimate.