Landscape Design Minneapolis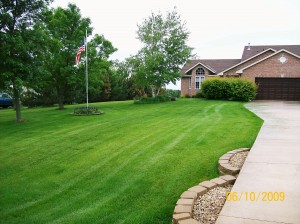 A fine landscape, as carried out by the best in landscape design, will add value, curb appeal, vacation or getaway feel to your home. It will make you the envy of friends and neighbors. One of our most widely sought after lawn care services is landscape design. Minneapolis residents are well aware that they can call upon Advanced Irrigation any time they need professional landscape design or service.
When you call us about landscape design, we will arrange a time to come out to your home and eye up the property. We will cover your design ideas, your wants and needs and aim to implement as much of what you would like into the ultimate design layout, your new landscape design.
After a landscape design plan is finalized for your yard, the installation shall commence. We will cover all of your wanted new landscaping features, handling everything from plants, flowers, trees, bushes and shrubs to hardscaping such as patios, retaining walls, fire pits and more!
In a very short amount of time, your family will be relaxing in a new outdoor oasis, socializing, hosting parties, or merely taking some quiet time to relax and enjoy the great outdoors without having to leave the comfort of your own home.
Professional Landscape Design
For nearly 20 years, Advanced Irrigation has been a trusted name in landscape design and a variety of other lawn care services.
Possessing the experience, equipment and knowledge to get you the landscaping you have always sought, we ensure all of our lawn care techs are well trained in the best ways to install your new landscape design features.
At Advanced Irrigation, we focus on meeting or exceeding our customers' expectations. Seeking lifelong relationships with all who hire us for their landscape design or other lawn care services, we simply get the job done and done right.
Give us a call to find out more about our landscape design services. We can talk to you about what you have in mind for your property and will provide you a free estimate so you know how much money to put away. We will then get you set up on our schedule can put you on our schedule as soon as possible so you get the new landscape you have always wanted!
Landscape Design and More
Are you interested in learning more about landscape design in Minneapolis and the surrounding areas? Call Advanced Irrigation at 612-599-8675, or you can contact us to set up a Free Estimate.