Lakeville Commercial Snow Removal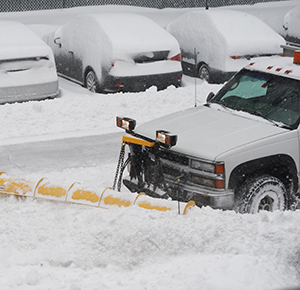 Does your Lakeville area business see snow and ice from time to time? Seeing as you're located in Minnesota; the answer is likely a resounding 'yes.' If you often see heavy snow and ice, it is essential to have a commercial snow removal plan in place with a company you can trust. After all, it's no easy task. And, if done incorrectly, can allow for hazardous situations outside your office. Advanced Irrigation offers reliable and efficient commercial snow removal in Lakeville you can depend on when you need it most. More than a lawn care company, we offer professional snow plowing and ice removal as well.
When you schedule commercial snow removal with us, we will come out to your business and handle all of the snow plowing, snow shoveling and de-icing for you. Clear parking lots and sidewalks make it safer for your customers and employees to get in and out of your commercial property. The last thing you want is for someone to get hurt, so making sure you have the proper snow removal services hired to handle this job is important. It is also vital to the health and well-being of everyone who comes and goes from your commercial business.
Give us a call and we can tell you more about our commercial snow removal services and everything we can do for you. We will be happy to answer any questions you have, and we can even give you a free estimate so you know how much to budget for.
Our Commercial Snow Removal Services
When you have Advanced Irrigation on your side as your trusted commercial snow removal company, our team will be ready to head to your commercial property to begin the snow removal process at the first sign of snow. We will use snow plows, shovels, de-icer and any other tools or materials needed to ensure your sidewalks and parking lots are clear.
In business for over two decades, Advanced Irrigation's main goal is to keep our customers happy. Each member of our team is fully trained in the best techniques to remove snow and ice.
And, as a local company, we care about our neighborhood and our reputation within it. We use the best tools and materials to ensure the commercial snow removal process goes quickly, but we will never cut corners or sacrifice any of the hard work we are known for. As a local company we are also familiar with this area's unique climate and weather patterns and are prepared to tackle commercial snow removal projects of any size. Give us a call today to learn more about how we can help with all of your commercial snow removal needs.
Contact Us for Commercial Snow Removal
For more information on commercial snow removal in Lakeville, call Advanced Irrigation at 612-599-8675, or contact us and get a Free Estimate.