Commercial Snow Removal Elk River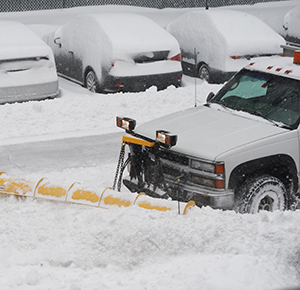 Does a forecast of snow and ice fill you with dread? If your business is unprepared for small or major snow events, it's no wonder such a forecast can strike fear. After all, a heavy snow can create hazards on walkways, accidents in the parking lot and even close operations for the day. So, do what you can to make sure it's business as usual with commercial snow removal services from Advanced Irrigation. We here at Advanced Irrigation understand just how stressful and time-consuming shoveling and plowing snow and ice removal can be. As a company that offers commercial snow removal in Elk River and the surrounding areas, we know the best ways to handle these tedious and sometimes dangerous snow removal and ice removal tasks.
Allow us to handle the hard work that comes with commercial snow removal. We can come out to your business and handle all of the snow plowing, snow shoveling and de-icing you need when there is a snow or ice storm. We know that your times is precious. By hiring us, snow removal will be one less task you will have to worry about. We can lear parking lots and sidewalks, making it safer for your customers and employees to get in and out of your commercial property.
Give us a call and we can tell you more about our commercial snow removal services and all we can do for you. We can answer any questions you have and we can even give you a free estimate.
Our Commercial Snow Removal Services
At Advanced Irrigation, we are more than expert irrigation. We also offer many other lawncare services to help your landscape look its best; and that includes commercial snow removal. During the winter months, we are one of the best commercial snow removal companies in this area.
At the first sign of snow or ice, our team will be ready to head to your commercial property to begin the snow removal process. We will use snow plows, shovels, de-icer and any other tools or materials needed to ensure your sidewalks and parking lots are clear. You will not have to worry about closing your business or delaying its opening because you have to shovel and plow.
We use the best tools and materials to ensure the commercial snow removal process goes quickly, but we will never cut corners or sacrifice any of the hard work we are known for.
Advanced Irrigation has been in business since 2001, and our reputation precedes us. We are known for being reliable, professional and friendly. And our commercial snow removal services are second to none.
Contact us today and put a commercial snow removal plan into action with the experts at Advanced Irrigation!
Contact Us About Commercial Snow Removal
Do you need reliable commercial snow removal in the Elk River area? Call Advanced Irrigation at 612-599-8675 or contact us and get a Free Estimate.