Commercial Lawn Care Plymouth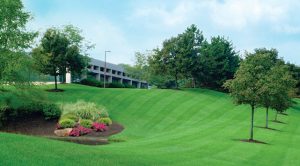 Advanced Irrigation offers commercial lawn care in Plymouth and surrounding areas. We are a professional landscaping service that can help make your property look great!
Attracting new business often starts with the aesthetic you present. A well-groomed property, freshly mowed, looks clean, like you (or your company) care about how you present. If your needs go further than lawn care—such as proper fertilization or designing, installing and servicing irrigation systems—we can handle all lawn care needs!
Hiring us means that lawn care is something you no longer have to concern yourself with. Never again will you have to stress over having to mow the lawn or what your grass and landscaping look like. Our team of professional lawn care technicians and landscapers will handle everything for you. We will make sure your landscaping and grass always look their best.
Give us a call to find out more. We will gladly field any and all questions that you may have and provide you with a free estimate. Shop around, compare our prices to other professional landscaping services in the area. Our prices are among the most fair and reasonable. You get high quality commercial lawn care services: some of the best in this area!
Call us today to get a free estimate and to get on our schedule.
Trust Us with Commercial Lawn Care
For about two decades, Advanced Irrigation has been a trusted name in both residential and commercial lawn care. We are known as one of the best lawn care and professional landscaping services in the area.
Staying on top of the finer details is what sets us apart. We see your landscaping and grass as a whole, but we also take the time to take care of each individual aspect of all that can be construed as yard or plant-life property, should you need it. We do not cut corners, are very thorough with our commercial lawn care services and all of the other lawn care and landscaping services that we provide.
All of our employees are professional and experienced, and we make sure to equip them with the right tools and knowledge to ensure your landscaping and grass get the care that they need and that you expect. We will always strive to meet or exceed your expectations.
Learn More about Commercial Lawn Care
Would you like more information on commercial lawn care in Plymouth? Call Advanced Irrigation at 612-599-8675 or contact us for a Free Estimate.