Commercial Lawn Care Lakeville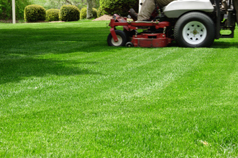 When a customer arrives at your business, usually the first thing they will notice is the outside of your commercial property. So you always want to be sure you put your best foot forward. You want to be sure your grass, trees and landscaping are looking their best. While you might not have the time and know-how to ensure your commercial property looks its best, the professionals at Advanced Irrigation do. Call us to learn about our commercial lawn care for Lakeville businesses, homeowners' associations, property management companies and more!
The professionals at Advanced Irrigation know just what to do to keep your commercial property looking great all year-round. From proper fertilization to irrigation system installation, maintenance and repairs, we have what it takes to keep your property looking great.
Give us a call and we can tell you even more. We can also give you a free estimate so you know how much you can expect to pay for our commercial lawn care services. We are also happy to answer any questions you have and address any concerns you might have as well.
Professional Commercial Lawn Care
The experts at Advanced Irrigation have been in this line of business for awhile now, and we know everything about how to keep grass, trees, plants and other aspects of your landscaping looking their best. We know how much water to give them and how much sunlight they all need to thrive.
Throughout the winter months, we also offer commercial snow removal as well. So no matter what time of year it is, you can count on us to help with the upkeep of your commercial property.
Why not give us a call and find out more about our commercial lawn care services? We can come out on a scheduled or as-needed basis, and we are happy to customize our services to meet your specific needs. We have helped multi housing properties, schools, restaurants, banks and more with all of their landscaping and lawn care needs.
No job is too big or too small for our technicians, so give us a call today to get on our schedule!
Commercial Lawn Care and More in Lakeville
Are you interested in learning more about commercial lawn care in Lakeville and the surrounding areas? Call us at Advanced Irrigation at 612-599-8675 or feel free to contact us to get your Free Estimate.