Commercial Lawn Care Bloomington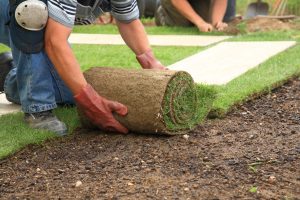 Advanced Irrigation provides commercial lawn care in Bloomington and neighboring areas. A full-service, professional landscaping service company, we get that business property of yours looking great!
Always wanting to present as best as is possible to attract would-be business clients or new tenants, we will assist with the benefits provided by our commercial lawn care services. We can do it all! We will make absolutely sure that your grass is ideally fertilized, or even design, install and service a water irrigation system, indeed handling every single one of your lawn care needs.
Your choosing us as your commercial lawn care company crosses another item off of your to-do list. Never will you have to be troubled by thought of what your grass and landscaping look like. Our team of professional lawn care technicians and landscapers will take care of all of these lawn-related tasks for you. Your landscaping and grass will always look their best.
Call us for additional information. We will gladly provide answers to your questions give you with a free estimate on whichever services you choose to pursue. Shop around, compare our prices to other companies of our like in the area. Our prices are amongst the fairest and most reasonable of them all.
Call us today to get a free estimate and to get on our schedule.
Trust Us with Commercial Lawn Care
Advanced Irrigation has been providing commercial lawn care services to local companies for nearly two decades. A trusted name in commercial lawn care, we are known as one of the best in this area. Always sure to pay close attention to the details that are so often overlooked by others, we see your landscaping and grass as a whole unit. No shortcuts, no cut corners. We are the very essence of thorough with our commercial lawn care services.
All of our employees are highly experienced professionals. We equip our technicians with the proper tools and insight to ensure your landscaping and grass get the care that your business requires. We will always strive to exceed your loftiest expectations.
Learn More about Commercial Lawn Care
Would you like more information on commercial lawn care in Bloomington? Call Advanced Irrigation at 612-599-8675 or contact us for a Free Estimate.