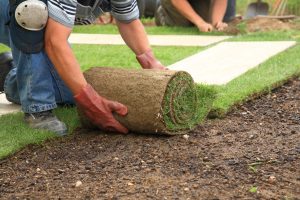 Just because winter will be here in a few short weeks, it does not mean you can stop taking care of your grass, garden and landscaping. While you will not have as many yard-related chores to take care of during the cold winter months, there are still a few items you should keep on your To Do List. Here are a few tips on what to do from the professionals at our lawn care services near Bloomington.
Start thinking about your garden and landscaping plans for next spring. If you are planning on having new landscaping features installed, now is the time to start looking into landscaping and lawn care services in your area. You should start gathering estimates and looking at portfolios and galleries to see what each service is capable of doing.
After you have made up your mind about which of the lawn care services you want to hire, make sure you call them as soon as possible to be sure you can get on their schedule this spring. Lawn care services like Advanced Irrigation are happy to put you on our schedule and to answer all of your questions about our services, irrigation systems and more. We can even give you a free estimate so you know how much to budget for lawn care this spring and summer.
If you did not lay down grass seed during the fall, start thinking about laying it down in the spring. These two times of year are the best time to lay down seed since it will be easier for the grass to take root and grow. Fertilizer can be safely used with grass seed.
If you are not planning on laying down any grass seed, then you should use pre-emergent on your lawn during the winter so weeds and other pesky plants are unable to grow. However, do not use grass seed and pre-emergent together.
Keep an eye on your yard and continue to rake any leaves that fall on it. Do not allow your children or anyone else to leave toys, bikes or anything else on the grass. If these items are left on the grass, that could keep it from growing and thriving in the spring and summer. Make sure you remove any trash and other debris as well.
Are you interested in learning more about our lawn care services near Bloomington? Call us at Advanced Irrigation at 612-599-8675, or you can contact us and get a Free Estimate.