There are a few things your lawn and landscape will need before the onset of winter. As expert providers of lawn care services for Maple Grove and the surrounding areas, we know all of the essential steps toward maintaining a beautiful, lush lawn. And, the best way to ensure a thick, green, and healthy lawn in the spring is to give it some well-timed care in the fall. That's why we would like to provide a list of essential lawn care services your lawn needs this autumn. And, if you need assistance with or don't have time for any of these tasks, don't hesitate to give us a call at Advanced Irrigation and we will happily take care of them for you.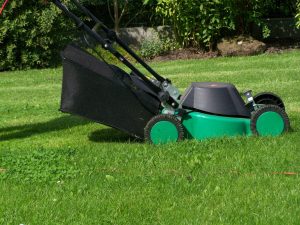 Continue Cutting…For Now
Grass continues to grown until the first hard frost and so regular cuts are still necessary to keep it at an ideal height. If it gets too long it will mat and become vulnerable to fungi like snow mold. Cutting grass too short, however, is just as bad because it curtails the root system and impedes the lawn's ability to withstand winter cold.
Remove Leaves
Leaves may look pretty but they're no good for grass; blocking the light and trapping moisture, becoming potentially fatal for the grass beneath. So when the leaves are falling, it is important you or your professional lawn care service blows or rakes them away as often as possible.
Water
If your lawn isn't getting at least an inch of water a week (a rain gauge is a useful way to keep track) then keep the irrigation system running until the end of October. Then, schedule your fall blowout for your irrigation system right away. This is one of the many lawn care services we provide at Advanced Irrigation.
Fertilize
Just as grass roots need water to last the winter, they also benefit from fertilizer to help protect them winter weather.
Spread Seed
Another one of our many lawn care services we provide, spreading seed is great at protecting your turf from weeds come spring. Not only does seeding help fill in thin spots or bare patches, it allows us to introduce the latest in resilient, drought-tolerant grasses. Fall is the best time to seed because the ground is still warm, moisture is more plentiful and the sun is not as hot during the day.
And, these are just some of the essential lawn care services that should be performed this fall. Give us a call today to learn more about our services and why we are considered one of the most trusted names in lawn care services in the Maple Grove area. Call Advanced Irrigation at 612-599-8675 or you can request a Free Estimate.